In an ideal world you would only have one #hashtag for your event.

In reality, it seems rare these days that an event organizer or community manager only has one hashtag to monitor.

So why are there so many and what's the trick in streamlining the way you monitor multiple hashtags so it doesn't take all day?
Anyone Can Create A Hashtag
That's right! Anyone can create, and start using a hashtag.
No one owns a Hashtag or can prevent others from using one either, which is why it is so important to choose a unique hashtag and to check that no one else is using the same one before you start to promote it.
This also means that anyone talking about your event on Twitter can invent a hashtag for it - another reason to plan early and ensure you include your official hashtag on all communications and on all printed material from the start.
Sometimes brands will have one or more hashtags they use that are not event related but Followers may still use these familiar hashtags in their Tweets when talking about the upcoming event.
So, with all these uncontrollable hashtags flying about how do you efficiently manage monitoring them and engaging with attendees?
The answer:
Advanced and Saved Searches
There's no need to search by individual hashtags, one at a time!
With Twitter's Advanced Search you can save searches for a combination of:
Hashtags
Words
Phrases
Locations
People
You can also drill down to a specific date range, language, and whether they are positive, negative or question Tweets.
The great news is that you can also easily identify hashtags that others create by saving a searching for the name of your event and other key words relating to it.
And now you can Follow, RT and engage with those interested in your event.
How Do You Create A Saved Search?
As soon as you press enter or click on Search, all the Tweets that match the search criteria you set will appear in a stream.
At the top of the stream on the right click on Save.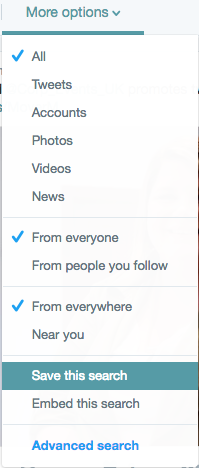 When you want to check Tweets from your Saved Searches just click in the search box. All your recent searches appear at the top and your saved searches at the bottom of the list.
The Day Of Your Event
Not only have you saved time and been able to easily manage your hashtags leading up to your event, but you now already have a ready made list to help you interact with people on the day or curate the perfect content for your SocialWall!
Our SocialWalls can pull in Tweets from any number of hashtags, they can also include Tweets that mention a @user, from a @user and from Twitter Lists. And you can even grab specific Tweets, regardless of whether they include the hashtag or any other criteria mentioned above.
Read more about controlling your SocialWall content here.
Hope you're feeling super-organized about your event hashtags now.
Think you might want a SocialWall for your event? Don't hesitate to contact us - we would love to help.