How do you really capitalize on the potential that can be achieved through social media?
Whether you're lucky enough to have a TweetWall or Social Wall at your event or not, these tips and strategies will help you plan your social Media for your event.
Let's start with Creating A Hashtag
What is a hashtag? It's a Keyword or phrase that is preceded by the # sign which is used to track a conversation around a specific topic.
Why should you use a specific hashtag for your event?
A hashtag links all conversation about your event together making it easy to track your event by using third party tools and on social media platforms including Twitter, Instagram and Google+.
Before you choose your event hashtag consider the following:

Keep it short. Remember Tweets are restricted to 140 characters, so the longer the hashtag, the less room for Tweeters to type and for others to RT (ReTweet). Also people are using their mobile phones to engage so no one wants to type a long word on a cell phone, right?
Make it unique. Before committing to a hashtag make sure it's not already in use by searching for it in the Twitter Search box! It keeps it relevant to your event only. A good practice is to choose an abbreviation of your event eg. #TWPEvent15.
Is it easy to remember? Make it easy for people to remember your hashtag and you will encourage more activity.
The most popular social platform used for events is Twitter so we will focus in detail on this platform.
Twitter
Do you already have a Twitter account? If not, create one. If you already have one for your brand, you may want to consider creating an "event" Twitter account for event activity. This helps provide a focused platform around event activity and attendees.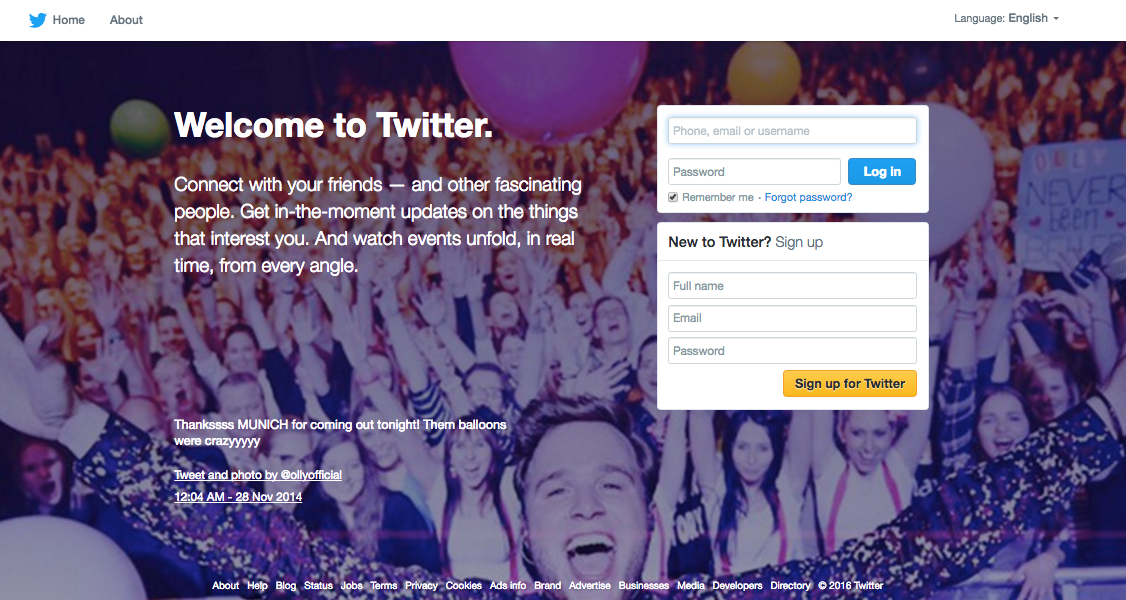 Setting Up A Twitter Account
Use the event logo (or your brand logo) as the Profile Picture. Your Tweets will be instantly recognizable as well as remaining consistent with your branding.
Use a simple (and short) name of your event as your Twitter Handle (@username). Your full Event or Brand name can be mentioned in the Name field to provide full detail. If your can't shorten the name, consider using initials followed by the year, eg. @TWPEvent15
Enter a description of your event in the bio field. This should clarify that this is your official Twitter account. Remember to include the name, date, venue, event #hashtag, and a short description. Be concise.
Build Your Twitter Followers
Having a Twitter account is not much use without any Followers to engage with.
Don't know where to start?
Here's some tips to get you started or help you increase your Following:
Follow important people or brands in your market. Look at who they are following and who is following them to find more Twitter users who might provide relevant connections for your event.
Personally Thank Followers. When people follow you, thank them. A personal thank you can go a long way and help spur more followers.
Create a Twitter List. A public Twitter list is great for providing information for anyone who is speaking or taking part in your event.
Ask for @handles. Ask any speakers, sponsors or key influencers who will be attending your event for their @handle so you can @mention them in Tweets before your event – introducing your followers to them and vice versa.
Use and encourage others to use your event #hashtag. Tweet and get people Tweeting with your hashtag before your event – it will get them used to using your hashtag and it may encourage their Followers to Follow you too!
Strategies For Other Social Media Platforms
Depending on your audience and your social media engagement on other platforms, you may choose to develop event specific Accounts or Event Pages on Facebook or Google+. These could be used to instantly invite and communicate with your friends and followers.

Just like on Twitter, you should aim to connect with speakers and other relevant contacts and join communities across various platforms to extend your reach and increase engagement.

A plan for taking pictures and video is also useful to capture key moments to be used for sharing across social media platforms as video and images are known to drive more engagement.
Communicate the Hashtag
Don't just leave it to your Social Media channels – communicate your event #hashtag on EVERYTHING – all printed and electronic marketing material; banners, tablecloths, flyers, programs, schedules, badges, bags, website, blog, newsletters, email signature etc.
Promote it by displaying it intermittently on your TweetWall during your event, and don't forget to ask speakers to mention the hashtag at the beginning and end of their sessions too.
Prepare For The Live Event!
You need to plan what you're going to do during your event to drive conversation, create excitement, and go viral - you may even #trend!
Pre-prepare Tweets, Facebook Posts, and other Social Media Posts, so you don't have to think on the spot. Include Questions for the speakers, facts on sponsors, answers to common questions, event reminders or "what's coming up" are a few ideas. You could even use tools like Hootsuite or Buffer to pre-schedule them.
Plan for a Social Wall or TweetWall. Using a TweetWall at an event helps increase the social conversation exponentially as event attendees get the chance to see their own messages/pictures/Tweets on screen. Question and answer sessions are transformed as more participants are driven to respond while sponsors can be integrated in advertisements and features. Furthermore moderation features, provide you with complete control of the displayed conversation.
These strategies will get you started in event planning to organize the conversation and develop your social networks to launch a successful social media campaign at your event.
Have fun!
- Photo credit: Alan O'Rourke via Visualhunt / CC BY