Which social platform is best for your event?
With so many social networks available these days, how do you know which one (or more than one) is right for your event?
Our social walls can integrate Twitter, Instagram, Facebook, LinkedIn, SMS, Mail and other private networks for a dynamic display of social conversation.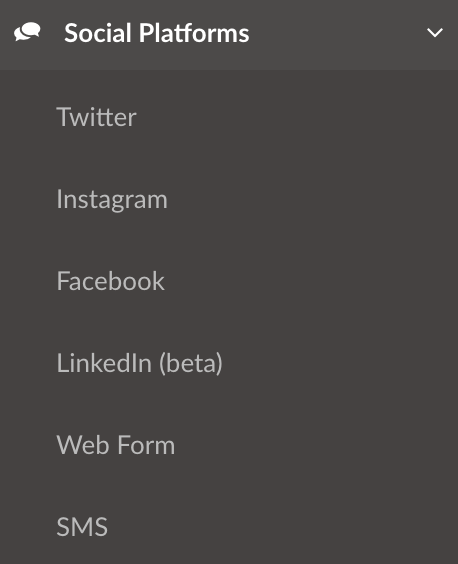 By far the most popular social network for events, content can be pulled into your social wall by way of
#hashtags

@mentions

@usernames

Twitter Lists

keywords.

We find that many events using our social walls end up trending…. will yours?
Instagram is still a fast growing social network and works well with all our social walls that display images. Instagram videos look great too and draw people's eyes to the screen. Instagram posts are displayed based on a designated #hashtag.
Facebook has over 1 billion users and is the world's largest social network. Facebook's main focus is to allow users to connect and share with family and friends, so content is not extracted using hashtags. Content is displayed based on specific page feeds and public posts, which is great for growing your Facebook community but doesn't suit all types of events.
With about half a billion users, LinkedIn is the world's largest social network for profesionnals. LinkedIn is the business and employment-oriented social networking service. Once connected through LinkedIn, you'll be able to select what page(s) you want to collect the posts from, or the posts you want to collect the comments from.
Sometimes you just don't want the conversation at your event to end up on any of the public social networks. Web forms work perfectly for internal meetings or when you want to make sure sensitive information isn't compromised but still want to encourage interaction from attendees.
The platform works by sharing a simple link to a web page with attendees, from there participants easily upload pictures and messages. Web Forms are also a great alternative for attendees who don't have social media accounts.
SMS is a great alternative for people without social media accounts or if you just want to keep the conversation private. We provide you with a local phone number for attendees to send SMS messages and they come through to your social wall.
When your attendees email our social wall, the subject line is used for their message. This is another great alternative when attendees don't use other social media networks.
Dream of being on the big screen? Tweet or post on Instagram w/ #MiamiFF & see it on our @knightfdn tweet wall: pic.twitter.com/IWrg9oGlDE

— Miami Film Festival (@MiamiFilmFest) March 6, 2015