Working as a team
During an event or during the daily management of your Wall, whether it is Live broadcast on a screen or embedded on your website to display a campaign, it is not uncommon that the management of a Wall is handled by several people.
For practical or security reasons, sharing access (login/password) to other people is not the best solution.
The "Share Admin" option in SocialWall Pro allows you to work with your team, your clients in an orderly, convenient and secure way.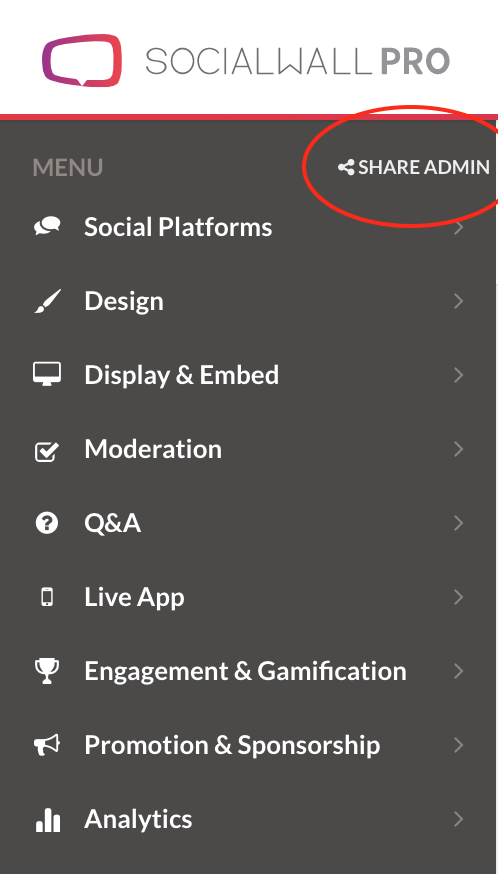 Specific and secure access
The account owner in SocialWall Pro has the ability to share specific and secure access for each of the Walls he or she creates in his or her account.
The uses and needs are multiple and the "Share Admin" option is the solution for example :
- an agency which wishes to give access to its customer for the configuration of corporate social media accounts
- ensure that financial aspects such as subscription will not be shared with your customers
- assign the role of moderator only to certain persons
Choose the features you want to delegate and create a link that you can share with the person(s) concerned.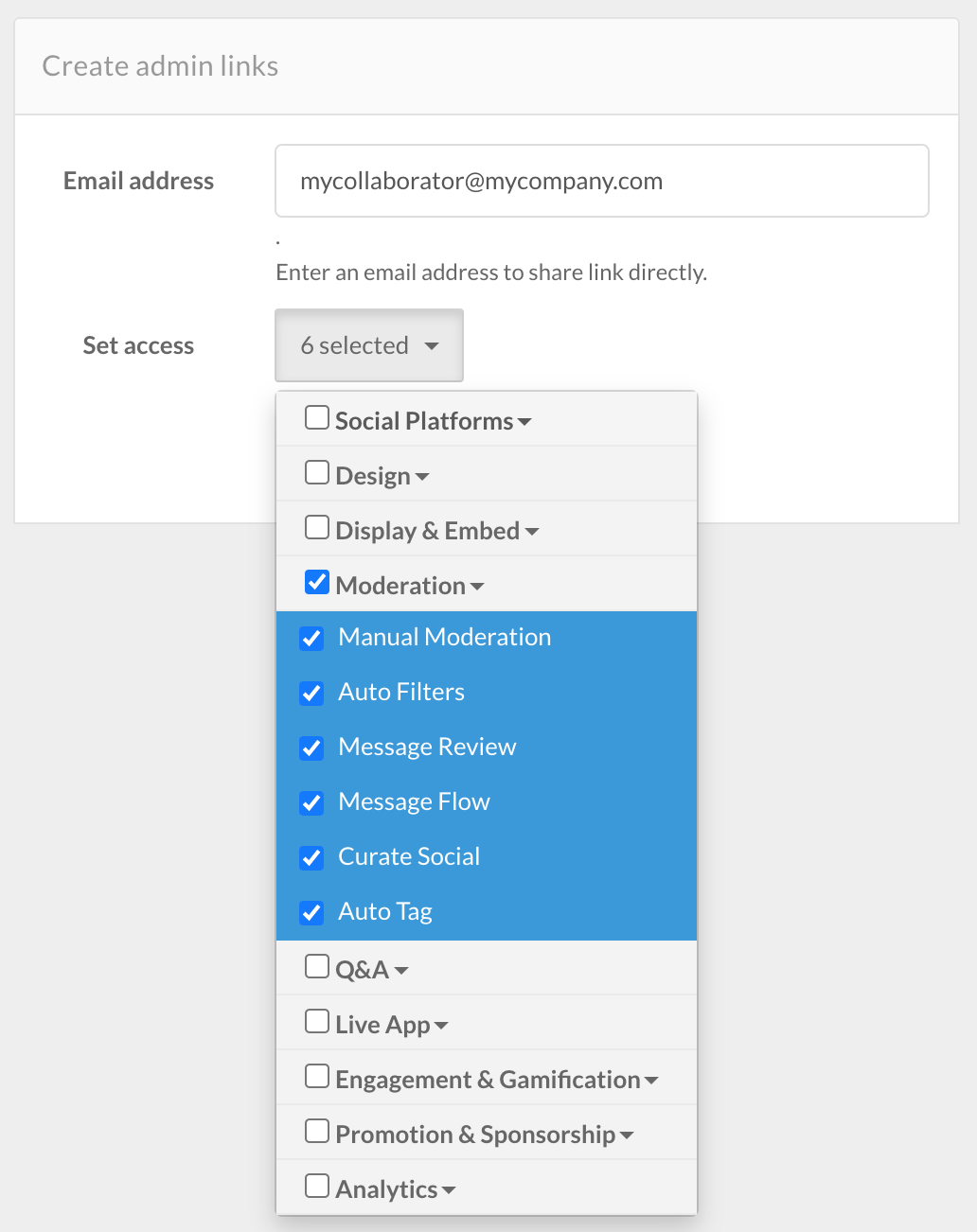 Do you finally want to remove a person's access so that they can no longer access this share? No problem, you can revoke these access rights at any time via the administration tool.

A complete list of his Walls on his Dashboard
Your collaborator or client will be able to access the functionalities of a particular Wall by following a unique link created for the occasion.
This link, which you will have created in the administration tool, you will be able to share it yourself or send it by email from the administration tool.
If your collaborator has an account on SocialWall Pro and once the access rights are shared, he will be able to find the Wall on his Dashboard under "My Shared Walls".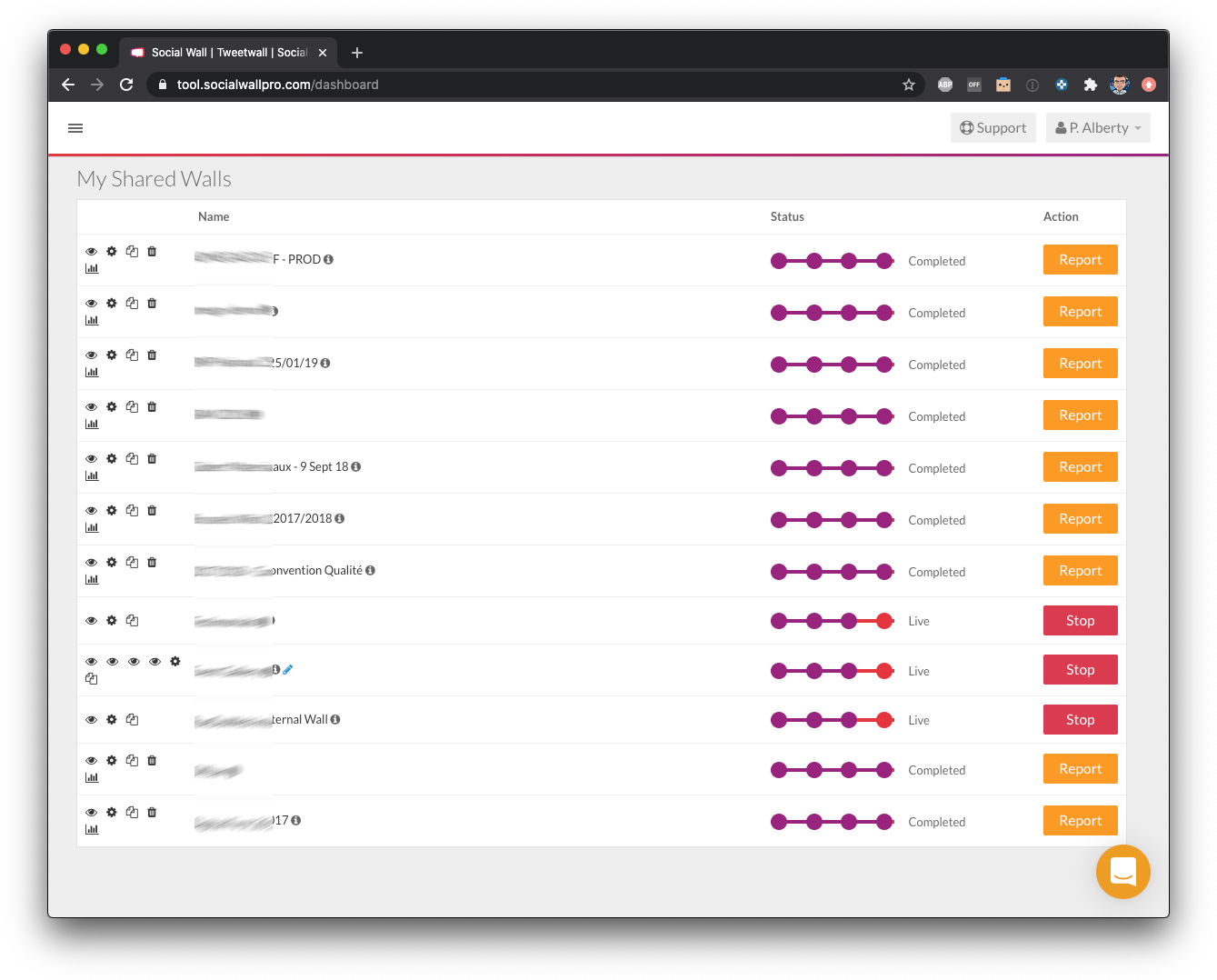 How-to
In short, to share access rights for certain features of a particular Wall:
Click on "Share Admin"
In the drop-down list, check the features you wish to share. You can check the features individually or by topic.
By clicking on "Create", you create a link that will appear in the list on the right. This link can be shared with whoever you want. The person receiving this link doesn't need to log in to the platform, they just need to follow this link to access the shared features.
If you want to share the link by email automatically, fill in the "Email Address" field before clicking on "Create".
If the person you 're sharing the link to has an account with SocialWall Pro using that email, he will see the shared Wall on his Dashboard.
You can revoke shared access at any time by clicking the "Revoke" button next to the link
By default, a link is created and is available in the list. It gives access to the moderation options
Want help setting up your wall, your account and share your access to colaborate with your team? Contact us!