When you think of a Social Wall or TweetWall, you probably think about live social conversation being displayed on screens, which is fun to interact with - you most likely don't immediately realise that it could make you money.

Screens grab people's attention like nothing else (apart from their smart phones) so you're missing a trick if you aren't making the most of intertwining some of our money-making features at the same time as inspiring more social conversation and buzz about your event or brand.

We have helped many of our clients find innovative (and often very subtle but effective) ways to increase revenue and/or have their social wall paid for, while continuing to inspire more engagement with their attendees and online audiences, so we thought you might like us to share a few ideas here to give you a taste for what you could do:
Find a Sponsor for Your Social Wall
Ok, this one is probably the most obvious!
Adding a sponsor's logo to our social walls is super-easy (you just upload the logo and pick a from a predetermined list of areas to place it). This feature isn't available with our Basic solution - but you could always include the upgrade to Pro in the price.

To combine a number of sponsor logos, our Pro version also allows you to upload your own background, so as long as you choose one of our social wall templates, such as Twitter Like, that doesn't take up the whole screen with messages, you can include as many as you like!
Spotted : la team @STIBMIVB à @CouleurCafeFest #STIBCoulCaf15 ☀️☀️☀️ @tweetwallpro pic.twitter.com/Dor5ue2eQ1

— Flexy Vøn Tvitter (@flexyflow) 3 juillet 2015
Couleur Café Festival - Sponsored by Stib(Brussels - Belgium)
Envoyez tous vos tweets avec le hashtag #PGW pour apparaître sur le Tweetwall du Social Corner ! pic.twitter.com/nGrKEkxR6t

— Paris Games Week (@ParisGamesWeek) 29 octobre 2015
Paris Games Week - Sponsored by Coca Cola(Paris - France)
Interrupt Your Social Wall With Advertisements
The Advertisement feature is included with all of our social walls, and it enables you to interrupt your wall with a full screen image or short video, either on demand, or at set intervals. You can upload multiple Advertisements, which means you have the flexibility of incorporating multiple sponsors, or intersperse advertising with announcements about your event too.
Highlight Your Sponsor's Tweets/Messages
Make sure your sponsors grab the audience's attention each time one of their messages appears on the social wall - you can choose between the profile picture on the message blinking, or the more dramatic white flash where the entire wall flashes as the message appears.

Highlights are again available with all our social walls, even Basic.
Custom Highlights
Like the idea of highlighting messages as they appear but want something a little different? Speak to us about how we can customize the messages to display in a unique way, make them really stand out, or to match your sponsor's branding.
.@mobileworldlive - "Mobile companies should help less tech-savvy consumers keep up with technology" - @IoanaVBazavan #MWC17 #InnovationNow pic.twitter.com/vTyvTobKU4

— AccentureComms&Media (@AccentureComms) 28 février 2017
Mobile World Congress - Custom Highlights per sponsor (Barcelona - Spain)
Focus on Multiple Sponsors with a Sponsor Loop
We love this feature because it enables event planners to spotlight any number of sponsors, one by one, rotating in a set area of the screen. No more trying to fit them all in the background of your social wall, and then agonizing as to who should go at the top, bottom, or middle - they all get their time in a prime position, and everyone's happy!
#MIAMIFF Kickoff is happening now! Who's at the Olympia Theatre? Stay tuned for RICHARD GERE! pic.twitter.com/j0xyZBEwl3

— Vanessa Contreras (@VanessaMCon) 3 mars 2017
Miami Film Festival - Around 50 sponsors logos in a loop (Miami - Florida - US)
Branded Gamification
If you haven't taken a look at our Gamification features, then you don't know what you're missing!

There's nothing like a Contest, or Leaderboard, to drive competition and amplify engagement on your social channels. We're sure your sponsors will love having the additional exposure of their brand alongside the winners!
#gamification in action! Using the #TweetWall to drive engagement & award prizes with @AbsolutVodkaNig @mtvbaseafrica pic.twitter.com/RXbplMEcfa

— SocialWall Pro (@socialwallpro) 30 mai 2014
Pernod Ricard - Branded Contest (Nigeria)

Our Word Cloud, Photo Grid, Hashtag Battle, Voting and other features can also be customized with our Premium solution - just get in touch and we'll be happy to let you know what we could do for your event.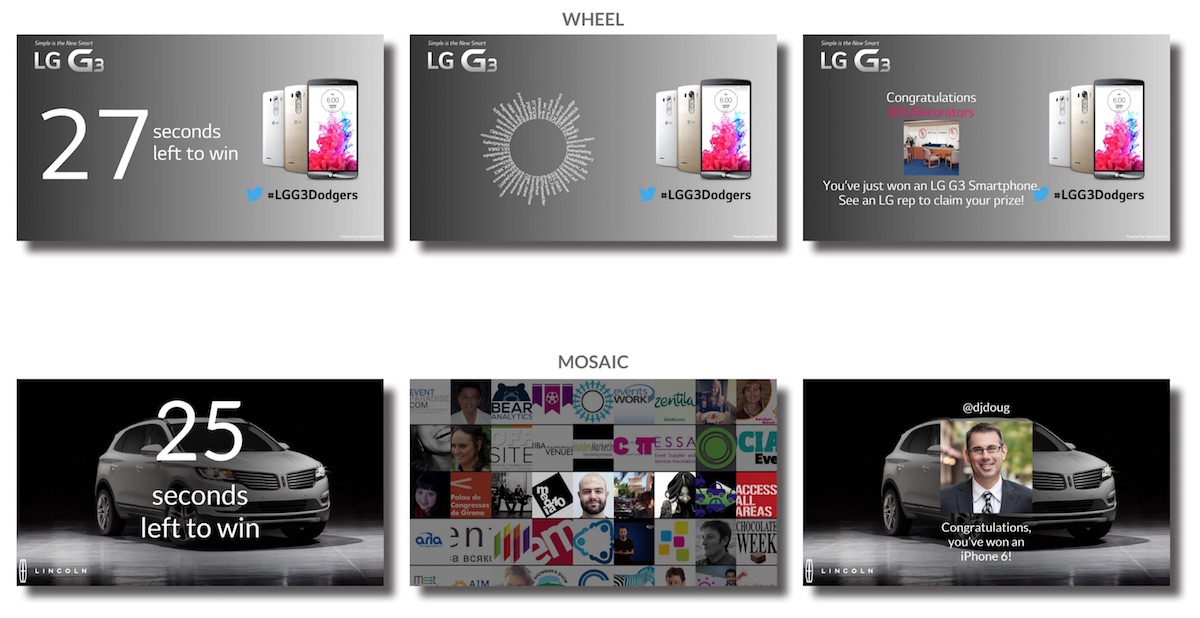 GITEX is over & it's time to announce the winner. Congratulation @mercymale you have won iPhone6! #MyLincolnMyMoment pic.twitter.com/24jpRcSy39

— Lincoln Middle East (@LincolnME) 16 octobre 2014
Lincoln Middle East - Branded Contest (Dubaï - United Arab Emirates)
Do you have some more ideas on how your social wall could make you money? Drop us a line, or have a chat with us today we would love to talk to you about how your social wall, and all it's features, could make your event a huge success, and even increase your revenue!
See you next time!