There's no denying it - social media is here to stay!

Connecting and engaging with friends, family, colleagues, and pretty much everyone you meet, is now the "norm" across all generations - from teenagers to grandparents.
It goes without saying that wherever there's an internet connection, and people with smart phones, you can guarantee that they'll be checking, posting, liking and sharing everywhere they go…. And that includes your business premises.

Wouldn't you like to know what they're sharing with their friends about your services or products, or maybe you'd like to prompt them into talking about the things you offer even more?

Take a look at some of the ways your business could use a permanent social media display:

Retail Social Wall
Encouraging your customers to share photos of your products, or even better, sharing pictures of them using or wearing items from your store is sure to get a reaction from their friends and followers, and they'll love the attention even more when they get their five minutes of fame on the big screen.

Want to drive a little more publicity? Why not hold regular contests or promise them a free gift when they post on social using your hashtag or tagging your business in the post (your social wall can display posts using hashtags, mentioning users, using keywords and more).

Our client, Jack Wills, ran a campaign called #JWTweetTreat - their customers were rewarded with a brand new pair of their branded socks when they shared a dressing room selfie wearing a pair of jeans from their new denim range!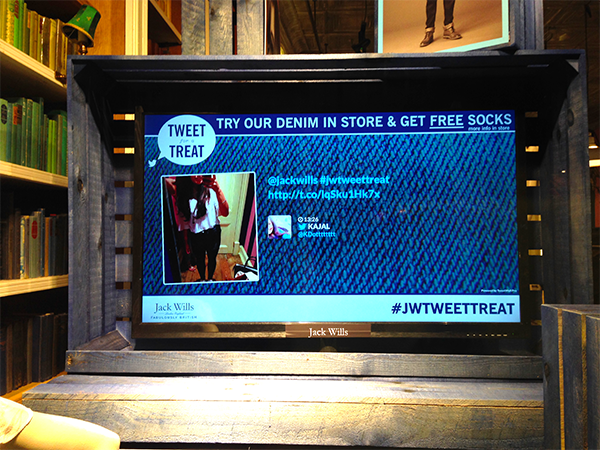 By promoting their hashtag in store and through their social media channels, they ensured a steady flow of content (and visitors to their stores) throughout the three weeks of the the campaign.

Screens were placed both in store and in the front window display.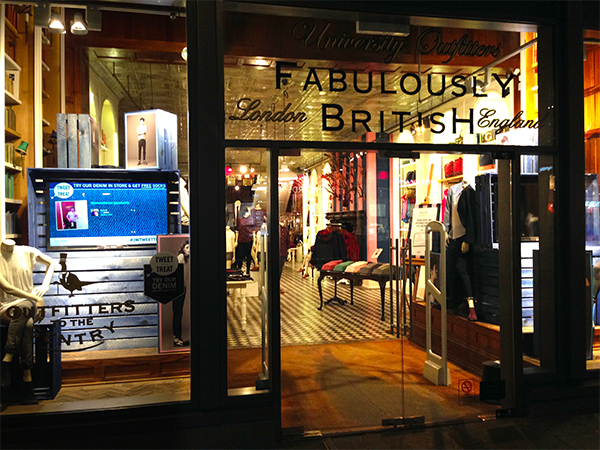 deFacto store in Turkey: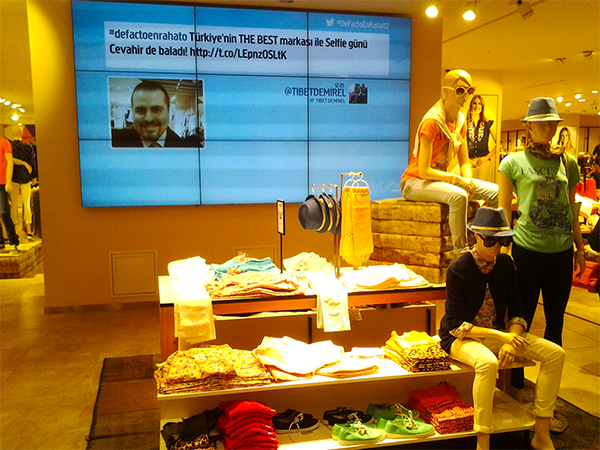 Social Walls in Office Environments
Don't you think your staff should know what is said by, and about, your business on social media?

Wouldn't it be great if you could find a way to encourage them to engage with your posts and join in the conversations? (And wouldn't that also make your marketing department/social media manager very happy!)

Displaying screens with the social conversation in communal areas in addition to areas that can be seen from their workstations works really well, and reception areas are great for keeping visitors occupied while they wait.

Ministère des Sports (France)'s social wall displays the Tweets and Instagram pictures from their official accounts and the ones posted by the Ministre des Sports, Laura Flessel.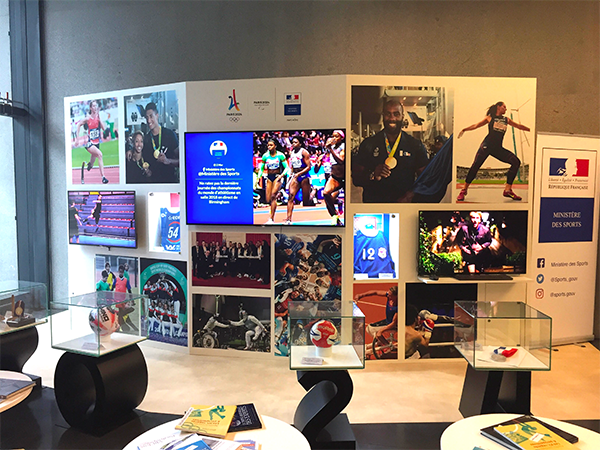 Pernod Ricard Sub Saharan Africa installed a permanent social wall in their Corporate marketing office in Johannesburg and we configured their social wall to show data/analytics and social conversation for each of their individual branded drink social channels (Olmeca Tequila, Chivas Regal, Jameson Irish Whiskey, Ballantine's Whisky and Absolut Vodka).
RueDuWeb (co-working space) has a permanent social wall showing posts from all social accounts from their co-workers. This wall has been enhanced to display the occupancy of the meeting rooms as well as the weather forecast.
Social Walls for Bars and Restaurants
Mealtimes in the past were traditionally a bonding time when family or friends would share food while talking about their daily lives.
These days, whether your dining alone or with friends, it's not uncommon to take a photo and upload it to your favourite social channel to share it with your friends. The thing about posting food pictures is that it's almost 100% guaranteed to prompt a conversation.

The same goes for drinks, whether it's coffee, tea, wine or exotically designed cocktails - people just can't help commenting on how they'd love one too, suggesting alternatives, or expressing their dislike.

Make sure your customers are mentioning the name of your bar or restaurant in their posts by encouraging them to use a specific hashtag, or tagging you to appear on screens. Then mix it all up a bit by using our Photo Grid feature to display menu choices, or use the gamification features to run a contest, or reward the most ReTweeted customer with a free drink or dessert.
Display a #SocialWall in your bar or restaurant! See the posts and pictures from your clients, display your menu / promotions (thanks to the PhotoGrid feature), organize contests during a football match ... pic.twitter.com/Kf9ixZ3xUE

— SocialWall Pro (@socialwallpro) 26 mars 2018
#absolutblackbox liquid love pic.twitter.com/7s7kobqjkg

— Lindsey Rayner (@lindseyrayner) 28 mars 2014
Hotel Social Media Displays
There are so many ways that a social wall can be used to promote hotels.

Encourage your customers to create social content for you by sharing photos of their room, views, the pool, bar and restaurant. Their friends and family love to see what they're up to, and they want to know where they're enjoying themselves too.

Screens in communal and reception areas that display social posts create a welcoming and friendly vibe and you can interrupt your social wall to advertise current promotions, menus, special events, and make announcements or run competitions too!
Join the #PGVisionHouse conversation to be displayed on the social hub @ThePearlKEch or in the lobby @essaadiresort pic.twitter.com/xkwPQdwvcD

— SocialWall Pro (@socialwallpro) 26 novembre 2014

As you can see social walls, also known as social media displays, are a simple but very effective solution that can drive engagement, market your business, and set a positive tone in any environment. You can also measure your success with the in built analytics and you never have to worry about inappropriate content being shared on screens when you use our manual moderation feature.

Do you think your business could benefit from a permanent social wall installation? Give us a call or send us a message today!