"In all the years that I've been attending conferences and in previous companies and/or positions, I have never been invited to attend a workshop that specifically helps give exhibitors strategies to get the most out of their tradeshow investment! Well I have now and what an experience!"
- says Dana Rowe, former CMO of TweetWall Pro
Some of this may be old hat, but we thought all was a really good reminder of how to get the most out of exhibiting!
A special thanks to The Venue Expo for organizing the day and to Sales Doctor Tony Morris for providing us with strategies to "help people buy."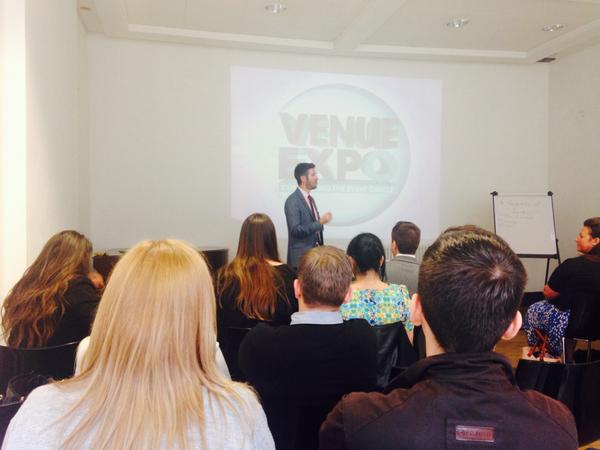 PREPARE! PREPARE! PREPARE!
We aren't talking about just making sure your stand/booth look amazing! Make sure you:
Plan - organize roles and responsibilities for each member of staff
Set specific objectives - including getting leads, setting meetings, identifying contacts and of course getting business. Have lead sheets, meeting calendars, contracts, and order forms ready to make meeting these objectives easy.
Treat your booth like a stage! -Make it look amazing and be sure that your event team treats it as such! Don't do anything you would do on a stage! (Check your phone, sit, etc. - You are there to meet and greet so do it!)
Dress the part - Be sure to look amazing too! Have spare clothes handy and a positive mind set!
Prepare your Elevator Pitch- be sure the whole team has a 15-20 second pitch to describe your product offering
Get your Social Media Ready- Identify event hashtags, speaker usernames, plan posts, and communicate your own Social Media channels and activities on everything!
Ok now that you have prepared…. What's next?
Be ready to welcome your first guest!
Should you say the following when people come up to your stand?
"Hello"
"How are you?"
"Are you enjoying the show?"
While on the surface, those seem like great openings! They are not!!! Those are all closed questions, which allow people to have a quick response and run!!! Uh…
I believe you are here to talk to people!
Use these open questions instead to get people talking!
"What brings you to the show today?"
"What in particular are you looking for?"
"Can you tell me a little bit about your line of work?"
Listen intently, so you can learn about the priorities and interest of your prospective client, so you can then talk about the most relevant features, advantages, and benefits (FAB) of your products so that you can best meet their needs!
Let's take a look at a few SocialWall Pro FABs to show you how it's done!
Feature (what?)- Moderation
Advantage (which means?)- Allows you to control all content to your TweetWall
Benefit (So what?)- Helps you display the most relevant content at the right time and helps protect your brand image
Feature- Advertising
Advantage- able to integrate sponsors and advertisements
Benefit- Generate more revenue
Feature- Gamification options
Advantage – makes it more fun
Benefit – drives more engagement providing greater brand/event exposure
As you are talking with folks be sure to continue to ask them questions, so you can fully understand their needs to best support them.
"What is most important to you about …. selecting a supplier/venue/using a TweetWall etc.?"
"What are you hoping to achieve by using this type of solution..... ?"
Be very attentive and listen, listen, listen! People like to talk so let them!
If you can schedule specific meetings/follow up at the show do it! Enter follow up activities in your calendars right then and there and take detailed notes on lead sheets, so when you follow up post-exhibition, you pick up exactly where you left off.
Categorize your leads with labels so that you can easily prioritize them for follow up once the show is over. For example;
H- Hot
M- Medium
L- Low
N- Not Relevant
Yes that's right, Not Relevant. We all know some people may not be a good fit, so it's important to know where to focus.
If a Social Wall or TweetWall is present, be sure to make the most of it as an exhibitor!
Join in the conversation using the #hashtag, include pictures to draw people in and invite folks to your booth (don't forget to mention your booth number).
Follow the conversation.
Reply/Favorite/ReTweet/Share and Follow/Like content to increase your own brand awareness and following.
Whatever you do, make sure you present a positive attitude ,ask open ended questions, listen intently and then be sure to follow through post-event and you will be sure to make the most of your investment in the show and set yourself apart from competitors!
Looking for more info, contact us!