The ITL2014 itinerary was jam packed with sessions, exhibits and networking but attendees still found time in their busy schedules to have fun with the very popular photo booth.
Of course, social media also played a huge role before, during and after their event and people are still tweeting with the hashtag #ILT2014 almost two months on, reliving their favorite moments.
Here's some words from Barbara Landsberg, Conference Director for Inclusive Learning Technologies Conference 2014;
"Thank you to TweetWall Pro for being such an active and integral part of our delegates' experience during the Inclusive Learning Technologies Conference (#ILT2014) in Australia in May 2014. Through the delegate engagement and excitement generated by the TweetWall being displayed in all seven presentation rooms and in main foot traffic areas, the #ILT2014 hashtag was tweeted close to 7,000 times. Nice. Many delegates also told us that seeing the TweetWall in action, made them decide it was finally time to get onboard with Twitter to expand their own professional learning networks. Truly a great outcome given the integration of educational technologies focus of the conference!"
It sounds like it was a fun, successful and memorable event for all.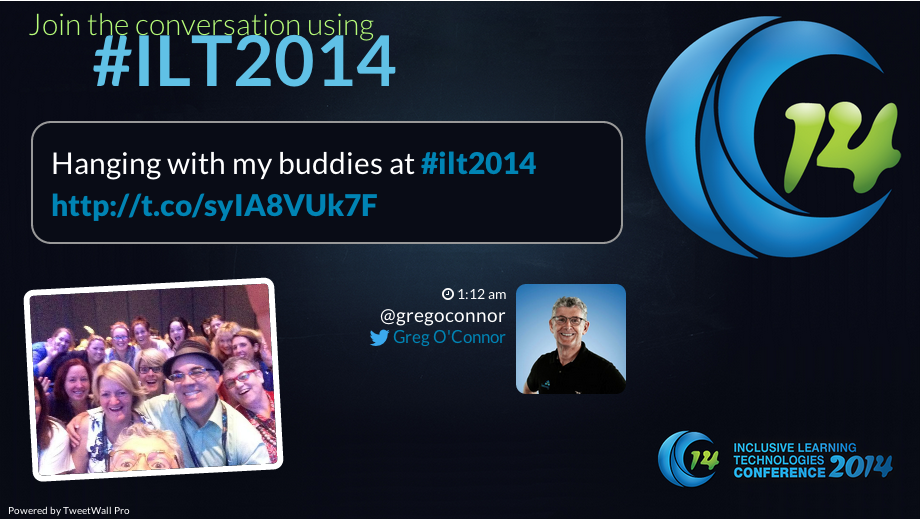 Want to know how to get a custom TweetWall for your event, contact us!