Watch the Event Industry Conversation While You Work
As an event professional, do you ever wonder how you can easily keep an eye on the industry conversation on social media, to join in, find out what's new, and connect with others?
We have a solution for you!
Hook up a computer to a screen and click on this link to the live social wall (same as the one shown below) showing Tweets and Instagram posts that use popular event industry hashtags. When you get there take it full screen by clicking on the button. You will also notice that the wall is interrupted every few minutes with a collection of up to 24 images that have been shared to the hashtag- this is our new Photo Grid feature which can be launched on demand or scheduled.
Want to you see yourself on the big screen? Tweet, or post to Instagram using #EventProfs and, as if by magic, you'll soon appear!
Please note that this social wall is not currently being moderated so apologies in advance if anything inappropriate appears.
Some Other Ideas...
Inspire Your Team to Engage
Are there communal areas where your staff and colleagues meet?
The water cooler, coffee machine, or break out areas are all great places to showcase the social conversation about your brand or industry. We know that, on average, people spend between one and two hours a day on social media, so you can bet they will have their smartphones in their hands when they take a break.
Give them a reason to join in the social conversation, connect with others, and see their Tweets, Instagram posts and Facebook messages be brought to life on screen too!
Welcome Visitors With a Social Wall in Reception Areas
Reception areas can be isolated and lonely places, don't you think?
Invite visitors to watch and take part in the social conversation on screens, and to follow you, boosting your reach and building your community at the same time - it's a win-win!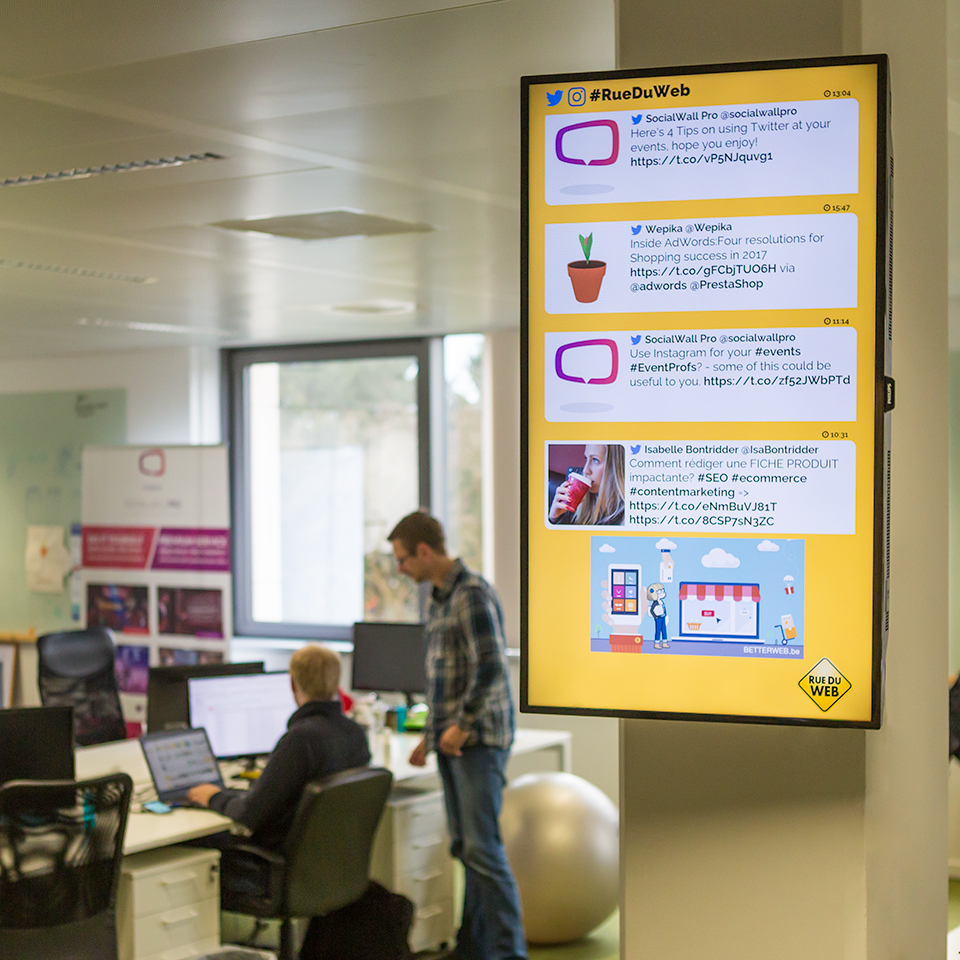 Don't forget that you can quickly and easily set up your own social wall to display messages using your own choice of hashtags and other criteria, so you can keep an eye on the social conversation that matters to you and your audience.
Try our free demo or set up your social wall today. Here's a link to our event, monthly and yearly pricing or contact us to find out about our special offer for permanent installations.
We're looking forward to seeing you on the social wall screens around our office!