What makes our Message Grid template so special?
Well, we love the way it pulls the social messages together into a "social hub" which gives a sense of community rather than highlighting individuals.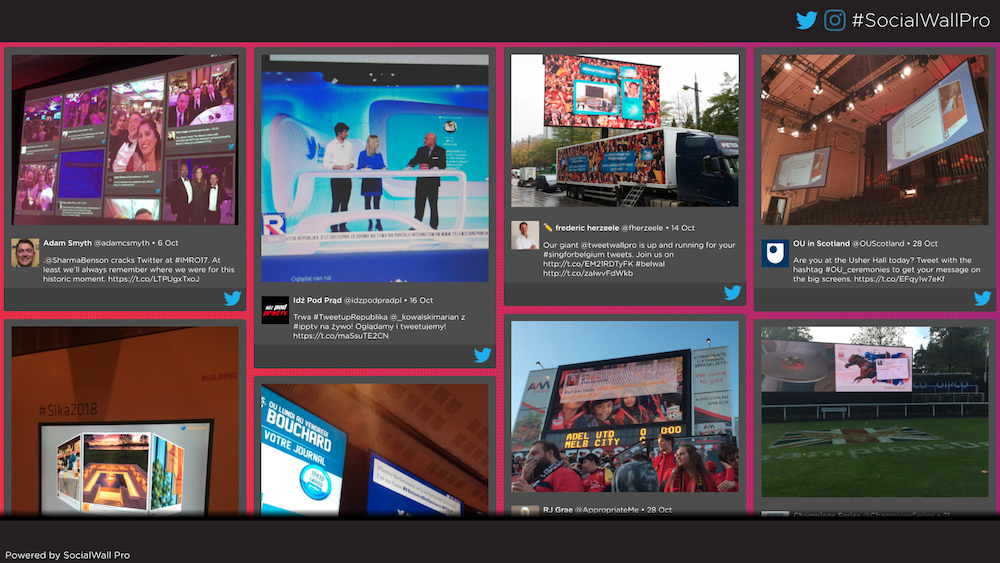 The beauty of being able to offer such a wide variety of standard social wall templates to our customers is that there really is one for every occassion.
The "social hub" feel makes the Message Grid great for events where there is a higher volume of Tweets, Instagram and other messages. It works really well in areas where attendees congregate or there is a high footfall and helps to keep them entertained (as well as encouraging them to Tweet more) when they are waiting in line.
At Mobile World Congress in Barcelona, ZTE used their customized Message Grid social wall as a back drop to their stage while demonstrating their product range.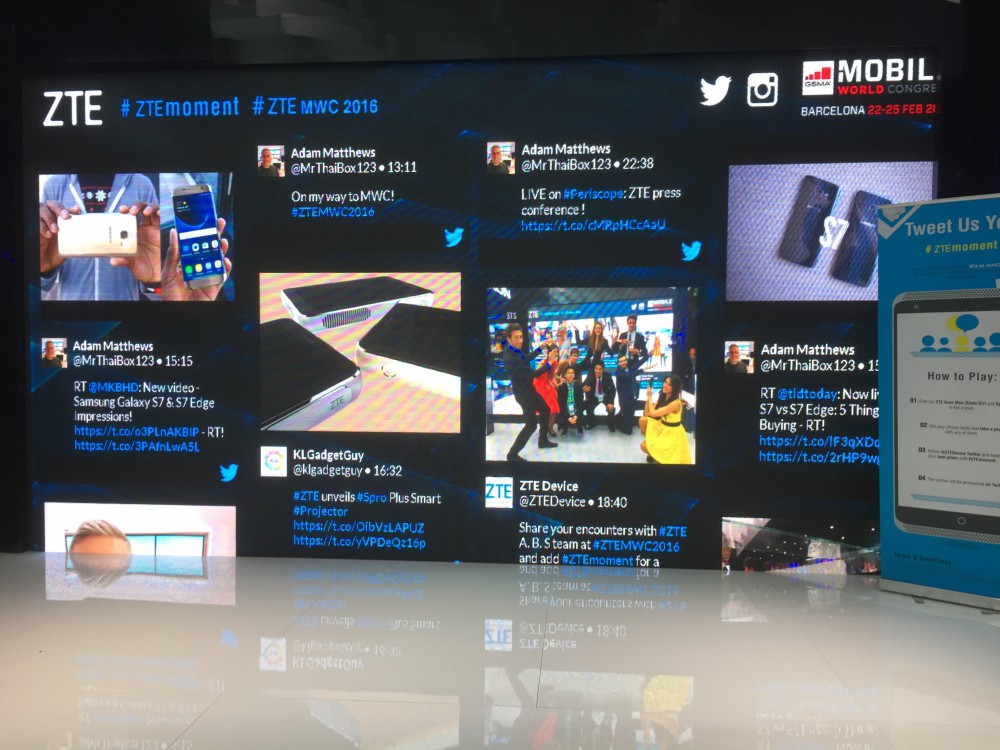 While the stage wasn't being used, visitors to the stand could see and feel the buzz - encouraging them to join the social conversation.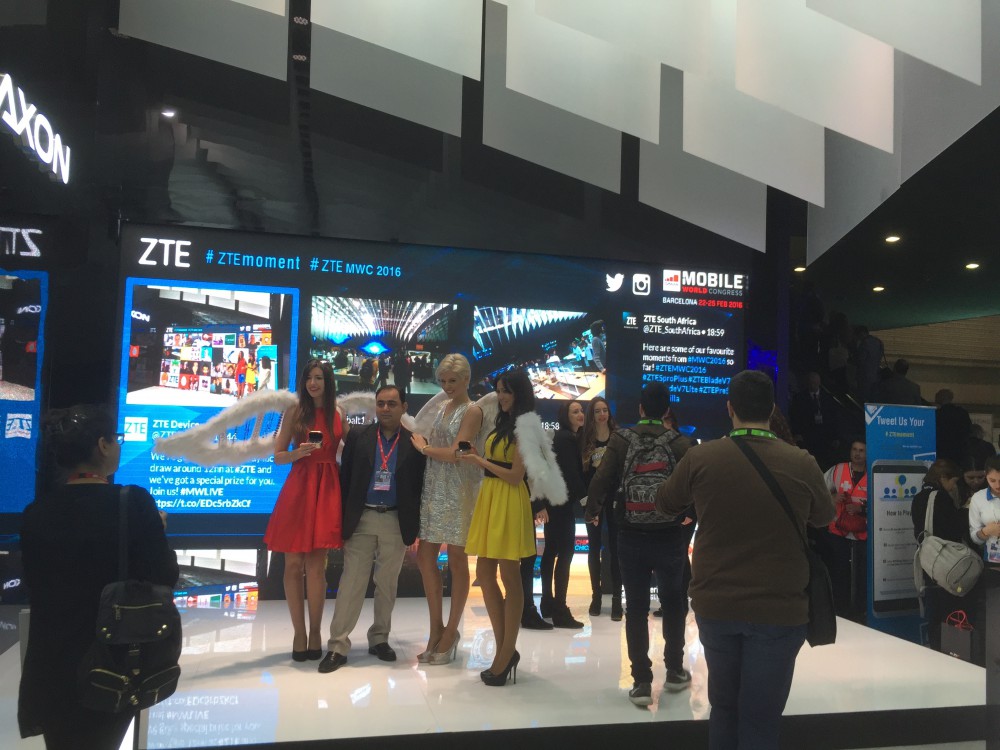 And to further create excitement and drive exposure of the brand via social media, ZTE ran a prize draw (our Contest feature comes as standard with all of our social walls).
Here's a selection of Tweets about the prize draw:
Last Chance! Take a snap with #ZTE A.B.S. Team and tweet with #ZTEmoment for a chance to win an Axon Mini! #MWLIVE pic.twitter.com/3PQgUJf4Cc

— ZTE Device (@ZTEDevice) 25 février 2016
😲 astonished winner after the prize draw for #ztemoment #mwlive congrats @FCnovas pic.twitter.com/Iv2dNUIGcV

— SocialWall Pro (@socialwallpro) 24 février 2016

At a recent fitness event, our client had the Message Grid customized in a slightly different way - to integrate their branding and set the tone using just three coloums of messages instead of the usual four.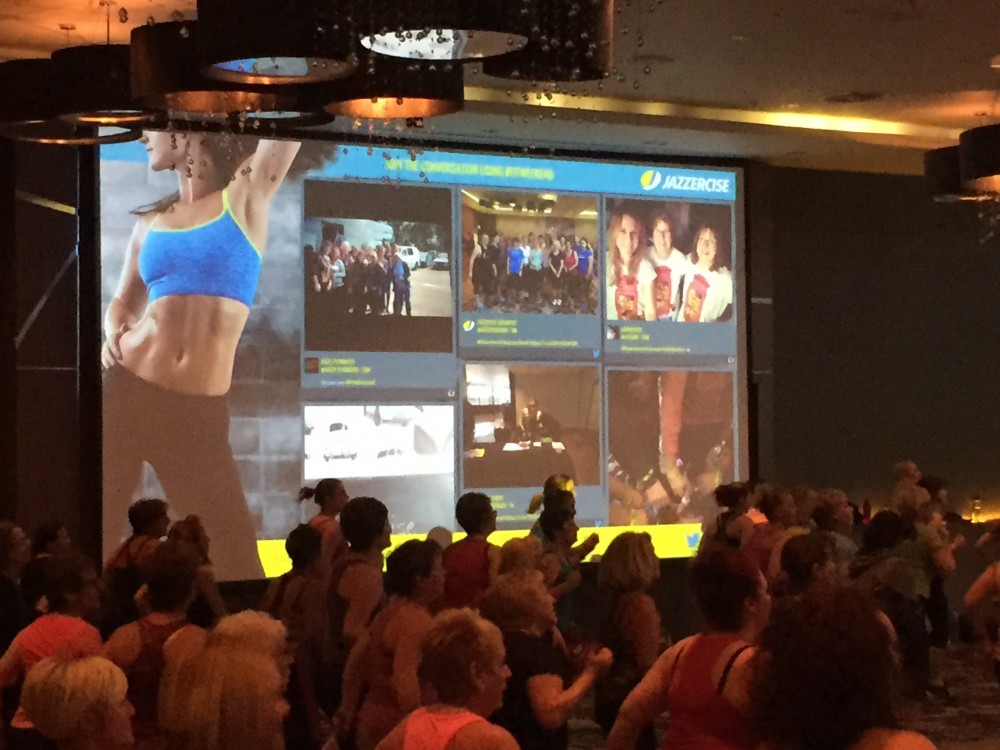 It looks great when users attach video to their messages too! (Click the "play" button on the Tweet below to see it in action.)
Loved the #socialwall at #fitweekend - with video it felt like the pics in Harry Potter! pic.twitter.com/aPFQzeyPkf

— Stephanie Harris (@stephharris) 12 avril 2016

So, do you think our Message Grid social wall would be a great fit for your event?
Get in touch - we would love to speak to you about it.
Think another style of wall would better suit your needs? We have many more available - whether you want to use them straight "out of the box" or let us customize them with your logo, colors, background, or more. Here's some for you to take a look at - just let us know if you have any questions.