We think we have the perfect solution for you, and it's called Custom Highlights.
What Is A Highlight?
It's a way of making Tweets, Instagram post or any social media messages/posts stand out on your Social Wall.
All of our social walls come with an option to highlight messages as standard - you can choose between a white flash or a blinking profile picture (avatar). These can be triggered by specific usernames and/or keywords or can manually be selected in the Tool.
For those who want something a little different, we offer Custom Highlights to provide more punch and personalisation.
Why Would You Want To Highlight Messages?
There could be several reasons to highlight a message, such as spotlighting interesting message from attendees, featuring speakers or exhibitors, or just to make sure your own brand/event messages are noticed.
Highlighting gets your message seen without appearing overly promotional and encourages people to join the conversation.
So How Do You Make Money From Custom Highlights?
Companies love to expose their brand in as many different ways as possible but there are only so many items like lanyards, pens, USB sticks and bags that can be "sold" to sponsors, and not every venue has multiple billboards and other ad space to offer either.
However, most companies DO use social media these days and would love their Tweets or messages to appear on the huge event social wall in their own choice of colors, allowing them to reinforce their branding at the same time as receiving special attention within the stream of Tweets.
What's even better is that you can also offer the opportunity to multiple sponsors, and present a variety of packages, for instance, we can provide you with the flexibility of limiting the number of highlighted messages per @user, per hour.
The average social wall displays around 360 messages an hour - dependent upon the animation and speed (which can be manipulated), so there's plenty of room for several sponsors Tweeting many times an hour.
Here's an example of how GSMA used custom highlights for their Mobile World Congress - the sponsored Tweet shown is red.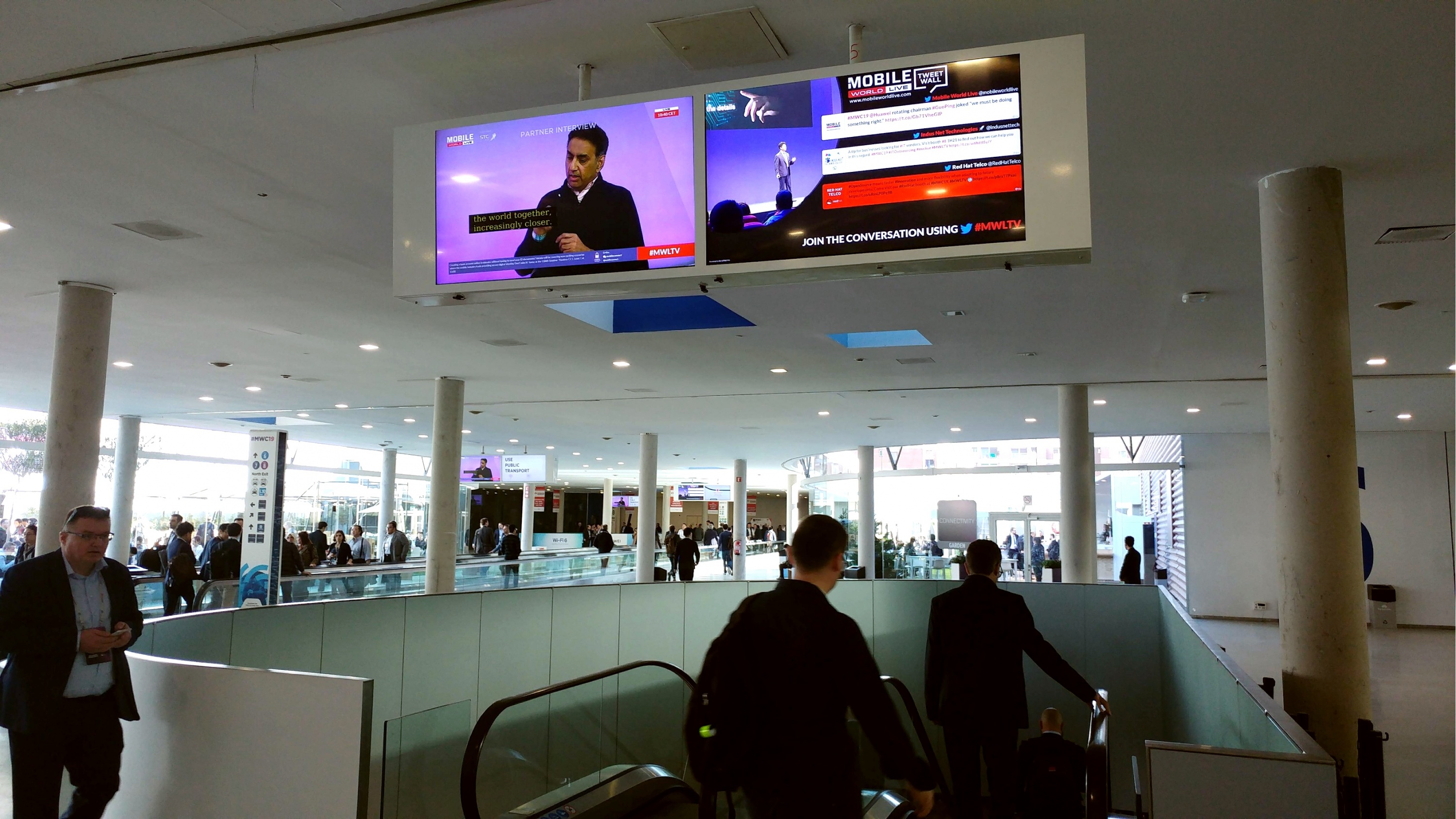 Other ways of integrating sponsors with your social wall are; using video or image advertisements that take over the screen at set intervals, or incorporating static or rotating logos into the design.
Have We Given You Some Ideas On Generating Revenue From Your Social Wall?
Nothing gives us more pleasure that finding new ways to help you make your event a huge success.
If you've got some ideas that you would like to talk through, we would love to hear from you.