Bring in alternative social content
Sometimes someone forgets to use the hashtag, or there is an awesome social message that was posted before your event which you think would be great to display on your Social Wall.
Most Social Wall solutions start pulling in content that's posted on social media after you hit play, so pulling in old content isn't possible.
Well, that's where our social walls are different - we designed our content curation feature just for you!
Found within the moderation area is our extremely useful Curate tab.
Here you can gather additional social content from Twitter, Instagram and Facebook.
It's easy to use too!
Just enter the URL of the specific Tweet, Instagram post or Facebook post into the box in the Curation tab. If you are curating from Twitter, you can also use our Chrome Plug In which works by clicking on the Social Wall Pro icon that appears in each Tweet when you're logged into the Live Center.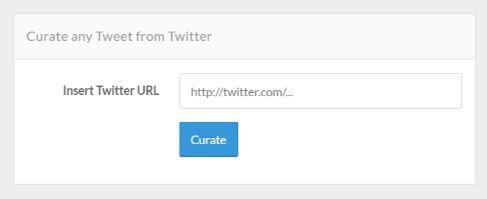 Once you've curated your posts, they appear in the moderation tab, ready for you to release at a time that's right for you!
Content curation provides you the flexibility of collecting limitless social wall content to keep you audience entertained, engaged and talking about your event.
We are live curating the Twitter wall. Make 'em good. #data14 pic.twitter.com/zrZa4FsnMK

— Tableau Software (@tableau) September 9, 2014