Want to score some valuable brownie points with your Social Media Manager? Or maybe you take care of all the social content for your event and find it a challenge to find interesting stuff to share?
You may not have realized it, but there could be shed loads of usable and shareworthy content waiting to be discovered in your social wall report.
Where to find social content
When you first access your social wall report (not available with BasicTool) you will be greeted by a beautiful graph and a Summary of all social activity, which is then broken down with a summary of each individual social network.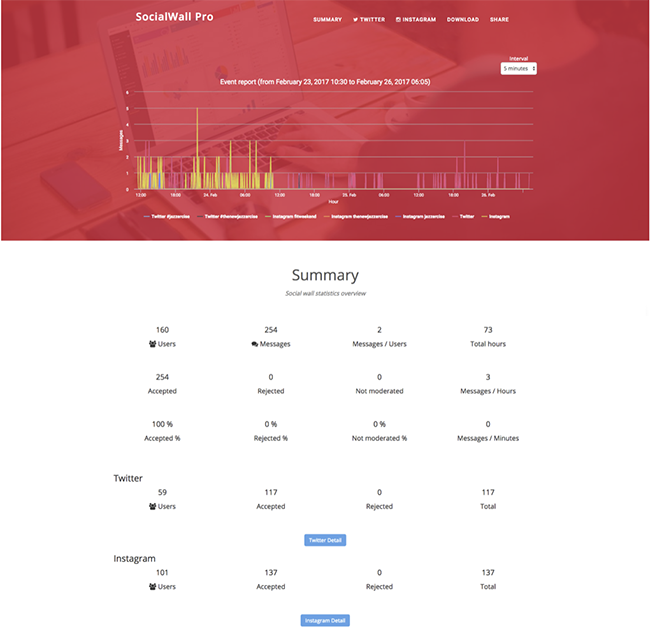 All this information is great as an overview but you don't find the "magic" until you delve a little deeper.
When you click on an individual platform (if you used Facebook, SMS or Web Messaging, they would also appear in the navigation menu) you are greeted with another summary page, which is then further broken down into each hashtag, username and other criteria which you specified in the Social Platforms settings in the Tool.
You will also notice an additional menu on the page:

Connect and engage directly from your social wall analytics to social media
Clicking on the Messages tab takes you to an interactive list of all messages that were gathered by your social wall.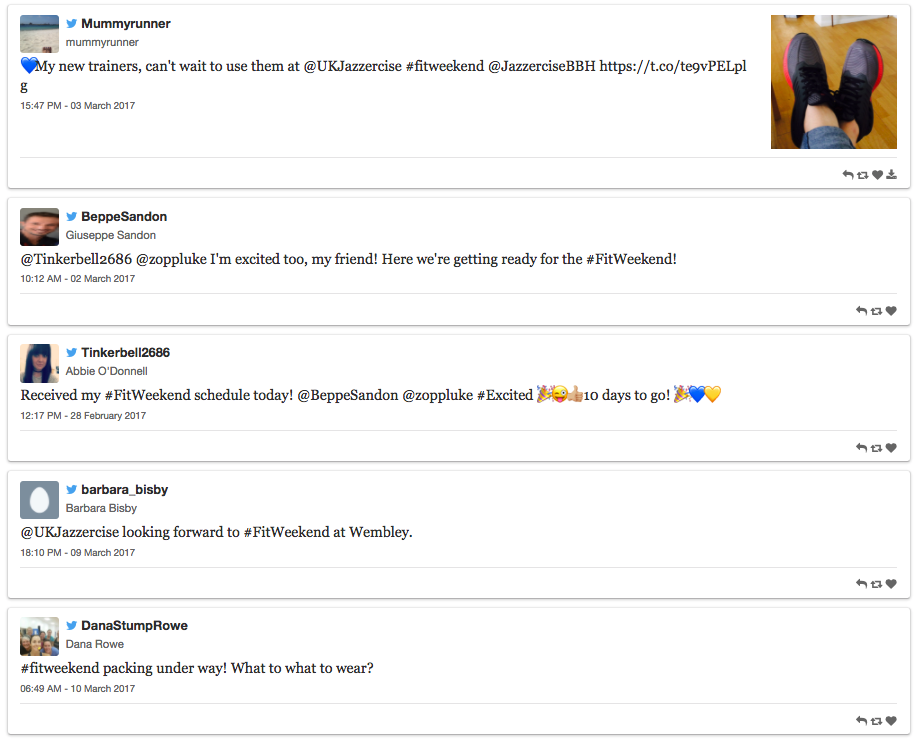 From here you can:
Click on the Username to take you straight to the User's Profile on Twitter or Instagram, so you can decide whether to follow them or put any of the Twitter Users in a Twitter List. (Twitter Lists are great for keeping an eye on the conversation of specific groups of users, such as VIPs, attendees, exhibitors, and speakers. Public Twitter Lists are also great to share with your audience and it's considered quite a privilege to be added to a list, so they'll be delighted when they see the notification that tells them they've been added.)
Reply, ReTweet or Like individual messages on Twitter, or download photos from Instagram or Facebook - just click on the buttons to the bottom right of each message.
Save quotes about your events from users to use in testimonials, or make text-based images to share on social on the lead up to your next event.
View and download images
Looking for some great images of your event to re-use* on your social accounts?
You can find them all together, conveniently, in the Photos tab. Not only that but if you click on an image, the message/text associated with it will appear. There's also an option to download each image individually.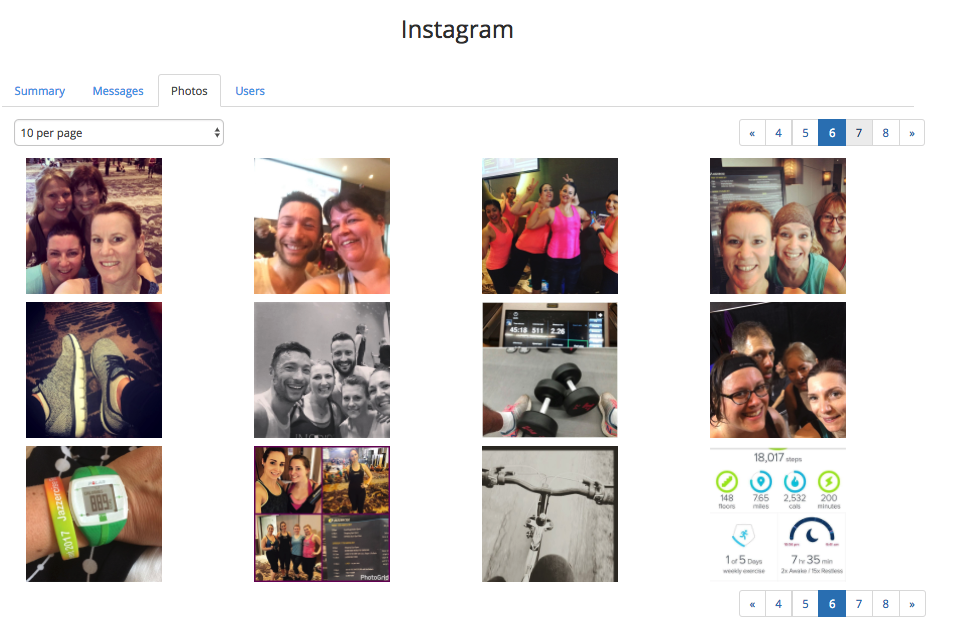 Want some ideas on how to use event photos*?
Gather all the best images to create an album or series of albums on Facebook
Share "multiple" image posts on Facebook, Twitter, and Instagram
Create slideshow video posts on Facebook and Instagram and make GIFs for Twitter
Overlay individual images with text to evoke memories or emotion eg. "Remember this?" or "Did you get one of these?"
Engage with the attendees who shared the images by posting them a from your social accounts, tagging them in the post, and thanking them for sharing to the social wall
Ask followers to vote between a small number of images that they feel best represents the event, and maybe offer a prize for the person who shared the most popular photo.
Don't forget to tag people in your posts when you can to encourage them to engage, comment and share!
*IMPORTANT: Make sure you ask permission from the owner before you use images!
Find your biggest fans and influencers
Clicking on the Users tab will reveal a list of all users along with how many messages they posted using your hashtag or criteria you specified in your Social Platform settings, and how many followers.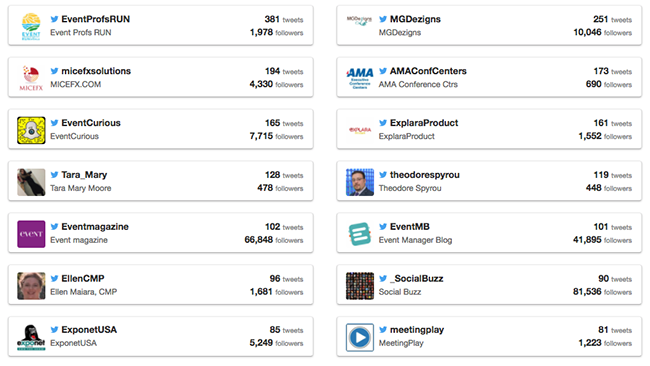 Would you rather know which of your users have the most followers?
No problem!
You can sort Tweeters in ascending or descending order by:
Number of Tweets
Number of Followers
Name
You can sort Instagrammers by:
Facebook users can be sorted by:
You can also find out which Tweeters had the most ReTweets in the Top ReTweets tab.
How can you make the most of all this information?
Your strategy is likely to differ depending on the number of users and volume of social messages received.
But no matter how much social traffic your event attracts, it's always a good idea to understand who your social influencers are, and our reports put this information at your fingertips so you can:
Follow influencers
Place them in a Twitter List to help you easily monitor their Tweets
Engage with them regularly to form or maintain a good relationship
See who they follow and who follows them
Understand what interests them and their followers to help you plan your content and give you new ideas
Consider asking them to speak at your next event (and they're sure to make sure their followers know about it too)
Wait..... there's more!
You probably can't imagine that there could be anything else we could do to help you?
Well, make sure your social media manager is sitting down because this one is sure to make them swoon with delight!
You can download customizable reports directly to your computer in just a couple of clicks! Could we make it any easier?

So, have we inspired you to dive back into your past social wall analytics reports to discover the amazing content you may have missed?
We would love to know if there's any other information that you would like to see in our reports.
If you would like to know about other features included with our ProTool or BasicTool, just click on the links or get in touch.
Have you enjoyed this article? If so you might also enjoy 8 Common Mistakes Made by Event Planners Using Social Walls (And How to Avoid Them) or find some more content generating ideas in Social Media Ideas on the Run Up to Your Event.
See you next time!
The SocialWall Pro Team