You know that they all have something to do with social media and that TweetWalls and TwitterWalls must have a connection with Twitter but what else do you need to know?
In order to make the right choice on which one to display in your office, at your events, or embed on your website, it's important to understand what each type of live wall does and what they can offer.
TweetWall versus TwitterWall
You guessed it, they both find and collect content from Twitter, which is then displayed on screens. Back when the concept of displaying event conversation was first invented Twitter was the obvious choice due to its fast-paced real-time conversation and brevity of Tweets (140 characters).
So, what's the difference between a TweetWall and a TwitterWall? There isn't one really, though their design can look very different depending on the brand you use. Many TweetWall solutions now also offer the integration of other social networks too.
Instagram Wall
Instagram walls purely display posts from Instagram. The term "Instagram Wall" is more commonly used with reference to making large displays using printed Instagram photos rather than a live wall (see example below) - you would usually expect Instagram to be included as one of the social network options for a social wall.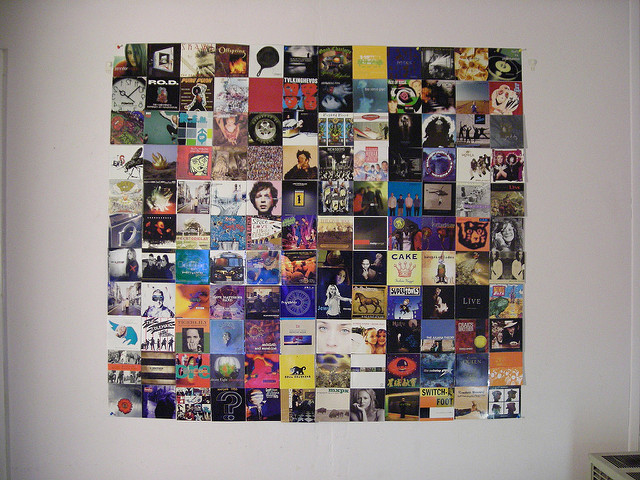 © Dwight Stone https://www.flickr.com/photos/skeggzatori/
Social Wall
A social wall aggregates content from more than one social channel and is now the most common type of live wall used for events or embedded on websites (like a social hub). Twitter is still the most popular platform but we have seen a substantial increase in the use of Instagram for events.
While Twitter and Instagram are included with all our walls, our ProTool can pull in posts and comments from Facebook Pages, though we also offer SMS and web message options with our Premium Services. By the way SMS and web messages can work really well in private or confidential environments where you want audience participation but messages may be controversial or of a sensitive nature.
What you should look for in a Live Wall
Of course, the features you would look for in a TweetWall, TwitterWall, Instagram Wall or Social Wall, would depend on your individual/brand needs. Here's a list of features that you might want to consider looking out for:
Design customization - as with any engagement tool, design matters. Find out if you can change colors, integrate your logo or even change the background to coordinate with your event or brand.
Moderation - if it's likely that your audience might be upset seeing inappropriate, embarrassing, or repetitive (ReTweets) comments or images on screen, then moderation is a must. Even if you don't want to moderate all messages, you may just want to remove one or two that cross the line, so bear this in mind when you're comparing which solution to use - many "free" or "cheap" solutions don't offer moderation, or may charge extra.
Multiple content collection options - you most likely have an event hashtag, but having the option of collecting content from a variety of platforms and being able to add more hashtags is really useful (it's amazing how many alternatives people find to use instead of the official event hashtag, so you'll want to be able to add more versions when you spot them). For instance, our walls can pull in content using the following criteria: hashtags (Instagram & Twitter), Tweets from a specific user, Tweets mentioning a specific user, Tweets from users of a Twitter List, and Tweets containing specific Keywords.
Website Widget - to display your live wall on your website or blog (this can be great for SEO too as it keeps people on your page for longer and gives them a reason to visit/return to the page).
Curate content - pull in content that doesn't contain the hashtag or is from the past, maybe reliving key moments, or from VIPs and speakers that will inspire your audience.
Engagement and Gamification tools - Contests, Leaderboards, and WordClouds can all reinforce your engagement strategy by driving competition and encouraging participation.
Promotion and Sponsorship integration - using your social wall to promote your next event or to generate additional revenue from sponsors can bring you added benefits.
Analytics - you've heard the old saying "you can't manage what you don't measure", right? Be sure to look for a solution that provides you analytics so you can improve your social media strategy for next time.
So, by now you should have a good idea of the main differences between the various types of Live Wall, and a general idea of how they work and what features to look out for to get the results you desire.
Are there any features, not covered here that you think would be useful? If so, we'd love to hear from you.
If you've enjoyed this article, you might be interested in more of our blogs, such as How to Send Brand Experiences Viral with a Social Wall and Social Media Ideas on the Run-Up to Your Event or find out Why You Should Use a Social Wall.
Don't forget to check out our BasicTool and ProTool features and pricing or try out our free demo.
See you next time!